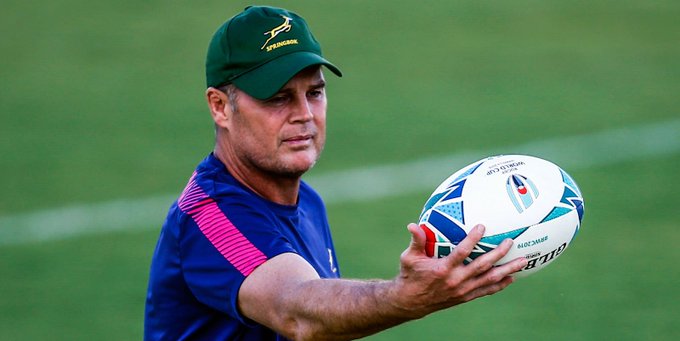 Throughout the entire week, Springboks supporters have been saying, ' England is the only team that can beat the All Blacks.'
England will battle it out with New Zealand for a place in the 2019 Rugby World Cup final on Saturday.
The hope of many South Africans is that England can defeat the defending champions and knock them out of the competition so that the Springboks can be able to beat them (England) in the final.
The thinking is already that Rassie Erasmus and his charges have secured their spot into the final even before they play their opponent.
The Springboks take on Wales in the second World Cup semi-finals at the International Stadium in Yokohama on Sunday.
Many South African supporters have concluded in their minds that the Boks will have an easy walk over the Welsh.
However, that thinking is flawed and can have serious setbacks.
Wales is a very strong team, which has reached the semi-finals of this competition based on merit.
One just hopes that Erasmus and his boys are not also too focused on the other semi-final than their own battle against the formidable Welsh side.
The Boks are without a doubt the favourites going into this clash, after their superb display throughout the competition.
On paper, Erasmus has a stronger team.
However, the Welsh are managed by one of the most respected and a master tactician in Warren Gatland.
Gatland, who has a good record against South Africa, having beaten the Boks previously with the Brittish and Irish Lions team must never be undermined.
Japan beat the Springboks in that historic opening match of the 2015 World Cup, not because the Japenese players were too good against them.
It was a master plan initiated by Eddie Jones which saw the Land of the rising sun triumph.
It is in this same fashion that Wales can pull a major upset, should the players stick to Gatland's game plan.
The Boks should rather focus on their game against Wales, rather than being obsessed with whether England knock the All Blacks out or not.
For South Africa to be the best in the world and win this World Cup, they must be able to beat the best.
Erasmus and his boys have their own destiny in their hands.
Two more wins and they will write their names in the history books.
But for that to happen, focus will be very key.